Mourning Rings


Mourning jewelry, commemorating the death of a loved one, family member or celebrity, has been around for centuries. Especially popularized by Queen Victoria in the 1800s when her lover, Prince Albert died; mourning jewelry became mass produced and popularly worn as well as sentimentally worn. One of the more important mourning jewels is the memorial ring. Rings were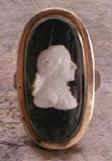 often designed before someone's passing, then according to the will, left to family and friends. In Shakespeare's will, c. 1616, he makes provisions for his daughter and wife to be given memorial rings inscribed, "Love My Memory". An excerpt from the will of Anne Lady Newgate of Arbury, c. 1637 is a perfect example of how memorial rings were distributed:


"Item my Will and desire is to have a few playne gould Rings made of tenne or twelve shillings price with a pansie being my father's Crest, engraven on the outside and two letters for my name enamelled with blacke on either side the pansie and an inscription within to be lattyn these words followinge 'Death is the beginninge of life'; and to be delivered unto soo manie of my friends as a memorie of my love as I heare nominate.
-Gossip from a Muniment Room, Being Passages in the Lives of Anne & Mary Fytton 1574-1618

Decorated with symbols of mourning and remembrance, such as the weeping willow, broken columns, urns and classical figures, often the rings would be personalized by an inscription of the name of the deceased, their birth and death dates. Mourning rings of the latter half of the 1700s strongly felt the popular culture's fascination with classicism, often using a figure stretched out over a tomb or walking with head in hands. A good example of this is a1786 ring depicting a painting of Hope, her chin in hand. Hope is sitting beside a tomb with an urn perched atop on which are the words, "Sacred to Friendship".


Memento Mori rings, reminders of physical death, were worn to remind one of a lover of family member who was still living, to appreciate life was fleeting especially with the onset of the Black Death. Lady Jane Grey's sister, Catherine, who passed on in 1568, presented to her husband while still living a ring engraved with a death's head and inscribed, "While I Live Yours". James Power had a premonition of his own death so in a letter to his fiancée, Julia Woodforde in 1818, he describes the ring he buys for her in order to remember him by:

"I purchased yesterday a Diamond Mourning Ring, I will place a brade of your hair and mine in it. On the inside I will inscribe, 'James T. Power died ----'…if this should be my fate you will… get it [the date] fill'd up and I have no doubt you will regard the ring with affection and wear it on my account."
-Woodforde Papers and Diaries


Good examples of memorial rings today are rare and important jewels and not easily found on the open market. They do once in a while come up at auction or may be found at a fine antique jeweler however the prices reflect their rarity. These rings are an important piece of not only jewelry history but also our social history, displaying clearly the need to face death and the need to be remembered.
from Poe's Attic